Die knusprigen Schokoladenwürfel - Rezept auf Deutsch
朱古力脆米方塊 - 中文食譜
Chocolate Crispy Squares
Ingredients for 20 servings
1 box (200g) Kellogg's rice krispies
200g milk chocolate
100g diced almonds
4 tablespoons golden syrup
icing sugar, for dusting
Preparation
Prepare a square tin, pour in rice krispies and set aside.
In a frying pan, fry the almonds to fragrant, then mix with the rice krispies.
Break the chocolate and add golden syrup into a bowl.
Heat water in a soup pot, rest the bowl over it and leave until chocolate melt, stir frequently.
Pour the melted chocolate syrup into the rice krispies, mix well all ingredients and press down firmly.
Chill the chocolate loaf in refrigerator for half hour. To serve, turn the loaf on a cutting board and cut into square. Dust with icing sugar. Kids love "Chocolate Crispy Squares", and it is an excellent party snack.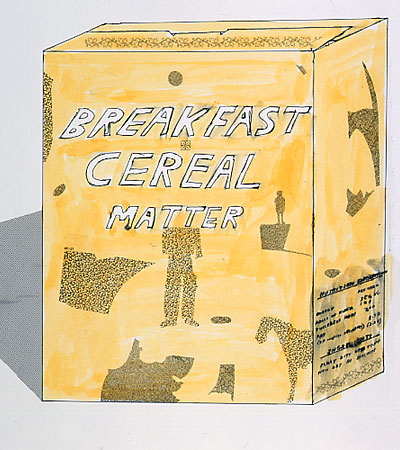 David Shrigley - What I Ate